Avionics
When it comes to navigation, communication and engine systems monitoring equipment, APR Aviation is knowledgeable about which systems will work best in your particular aircraft. We precisely install and test these new avionics to operate at peak performance. As dealers for all major lines of avionics, we offer the latest in electronic technologies available for your aircraft.
Helicopters are certainly a different breed of flying machine. We are proud that nearly fifty percent of our work is performed on rotor wing aircraft for private and government owners such as the California Highway Patrol, Valley Children's Hospital's "Air George" and the United States Forest Service (USFS) Contractor operations.

We understand every pilot's needs are a little different and our Precision Custom Panels are handcrafted to an owner's specific requirements. General manager Kevin Johnson and his technicians are proficient in creating a user-friendly interface that allows a pilot to operate at peak efficiency. This versatility is why USFS contractors and ma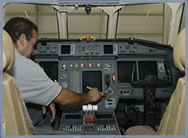 ny law enforcement agencies who utilize specialty radios choose APR Aviation.
In shop repairs
Our trained and experienced bench technicians can repair your radios, servos, or just about anything in your cockpit, fast. KRA-10A RADAR altimeter systems, Honeywell servos, Garmin equipment, and auto pilots are just a few of our specialties. Send us your equipment and we will call you with an estimate within 1 business day.